Kindle Direct
Publishing
Success Guide
Niche ideas, keywords, and custom interiors for low-content book publishers.
Grow Your Passive Income The EZ Way
Publishers of all levels can benefit from our easy-to-use interiors, up to the minute research, and bonus tips and tricks to make money from the world's largest marketplace.
Here's everything you get for one low monthly price:
Training and Advice
Beginners get step-by-step training on how to start a successful KDP business.
Custom Interiors
Our premium ICDP interiors are professionally designed by Pixel Pod Studio in ALL major formats (PDF, PowerPoint, Adobe InDesign, Affinity Publisher) and come with detailed instructions.
Expert Tips
Every month, we provide expert tips on how to understand and optimize your IMP listings, improve your ranking, and grow your business.

Monthly Content Guide
Every month, we provide in-depth research on the trending topics, holidays, events, and niches earn more money, right now.

Bonus Topics
Your monthly subscription also includes bonus topics like evergreen content, marketing bps, and more.
Success as a low-content publisher depends on your ability to stay ahead of the competition and attract readers with fresh, topical, creative content every month.
For just $37/month, EZPub Profits VIP helps you boost your profits with up-to-the-minute ideas, research, and training that keeps you ahead of the curve and on top of the rankings
Subscribe today for the easiest way to start and grow passive income with low-content publishing with Kindle Direct.
About The Current Content Guide
The current issue of the guide covers:
Niches That Sell During Dec
Including Christmas & Hanukkah. Working 2 months in advance gives you plenty of time to make books for these niches!
Unique Evergreen Book Ideas.
Don't miss out on these unique book types that have evergreen appeal.
6 Custom KDP Interiors
Provided in ALL major formats (PDF, PowerPoint, Adobe InDesign, Affinity Publisher) with premium design by Pixel Pod Studio
Here's what you get with our VIP Plan
VIP
Access to the best KDP guide in the industry

Access to our exclusive members-only Facebook group

Training and Advice on low content publishing and how to start a successful KDP business

Monthly video walk-throughs of each guide

Amazon advertising guide

Expert tips
What Will You Get From This Guide?
An in-depth overview of holidays, events, and trending topics for 2 months in advance, including Amazon keyword research, low-content book ideas, and even some interiors to get you started. The goal: 1 quality book per day.
Guides are emailed to subscribers on the first day of every month.
Creative Concepts
Every month you will get a list of ideas which you can work through during the month. This will enrich your Kindle Direct Publishing inventory.
Bonus Topics
Each guide also includes an actionable bonus section covering topics like how to create an activity book or how to fill out your Amazon keyword boxes.
Actionable Advice
For each idea mentioned in the guide, you will get instructions on how to best utilize that idea and create books that have a high chance of selling

Networking
Connect with like-minded people that are in the Kindle Direct Publishing business through our EZ Pub Profits Face-book group.

Interiors to Get You Started
Along with instructions, you will get as many as 15 unique book interiors you can customize for your own low-content books.
Increase Your Profit
The main goal of this guide is to help you get your Kindle Direct Publishing business to the next level, and increase your sales and profit month-by-month
Anyone who has ever struggled with what to research or has run out of niche ideas for their Kindle Direct Publishing business.
Beginners
Maybe you already have some books up on Amazon and you're doing pretty well, but you've run out of ideas for topics. This guide is just what you need to get those creative juices flowing again.
Intermediate Publishers
Are you new to low-content publishing on Amazon? Not sure what to make your books about? Then this guide is perfect for you.

Advanced Publishers
Perhaps you already have hundreds or even thousands of books on Amazon. You know a good niche when you see one. Check out the guide and you may find some thing that surprises you – a new idea you hadn't thought of or a new area to dive head first into.

You only have to run with one novel idea for the guide to pay for itself many times over!
"I typically use three things when it comes to my KDP business. The first is… Book Bolt. The second is the Amazon search bar, and the third is the EZ Pub Profits guide."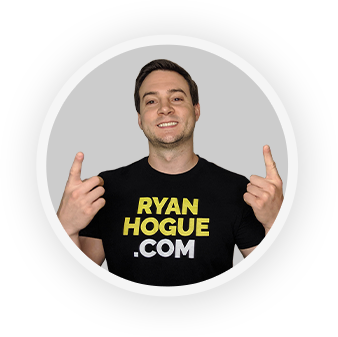 "Check it out for one month and if you hate it, you're only out $10, but if you actually use it (even if you cancel after your first month), you're going to make that $10 back, almost guaranteed."
Founder, Ryan Hogue Passive Income
"Best KDP LCB Research Guide – I can't Praise it enough!"
Founder, Low Content Book Mastery
The best research guide when it comes to kdp. You can never get enough research!"
Founder, Pixel Pod Studio